Best Sleeping Bag Review – Top 5 Coziest List for March, 2023 with Buying Guide
Who uses a sleeping bag?
Backpackers and campers, of course. Families spending time in the great outdoors for they hobbies, whether they have a huge collection of camping equipment or are just pitching a tent in the backyard. Young kids having sleepovers at friends' homes. Overnight guests when there aren't enough beds. Even those trying to stay warm in front of their TV on a cold winter's night.
Those diverse groups have very different needs, and it would be impossible for the Groom+Style review team to combine all of the possible choices into a single "top 5 best" sleeping bags list. After all, the bag that's best for a child's sleepover isn't going to do much good at the top of a mountain in the snow and freezing cold.
For that reason, we've decided to focus on sleeping bags used by backpackers and campers. If you're simply looking for something warm and comfy to cuddle up in at night, they have a great selection at your local department store.
Sleeping Bag Shapes
There are two major styles of sleeping bag to choose from: standard rectangular bags, and mummy bags.
1. Standard Rectangular Bags
You're probably familiar with rectangular bags; they're what you may have slept in at camp, in Scouting, or when your parents bought you a sleeping bag to take into the yard for a "campout." This style of bag gives you the most sleeping area, ideal if you're prone to tossing and turning or feel confined in tight spaces. They're also the least expensive option.
However, they're larger than the mummy bags we'll look at next because they're made from much more material – making them heavier and bulkier, not exactly the ideal equipment for a backpacker. And since they're more spacious that means they don't retain heat as well, not what you're looking for when you're going to be camping in extremely cold weather. In other words, there's a reason that rectangular bags are common in casual camping environments: they're not "serious gear."
2. Mummy Bags
Picture an Egyptian mummy – wide at the head and shoulders and then tapering down to the narrowed, bound legs – and you'll be able to visualize the shape of a mummy sleeping bag. If you think about it, that's also the shape your body takes when you're lying down in a perfectly straight position; a mummy bag is designed to accommodate a sleeping body in the least space required.
These bags aren't as comfortable for restless sleepers, at least until they get used to being wrapped up tightly. But they're worth the learning curve if you're going to be carrying them on your back over long distances or tucking them a backpack, since they're lighter and pack much smaller. They're great at containing body heat and most have an insulated hood and neck collar to help you stay warm.
3. Other Less Popular Shapes
Several less-popular styles are available as well. Semi-rectangular bags are a hybrid between rectangular and mummy, with more room at the top and no hood; womens' sleeping bags are customized to the typical female shape with more hip room and extra insulation in strategic spots, and Adam-and-Eve bags are basically two rectangular bags which zip together. You'll customarily find two size options, regular and long, with the latter meant for people taller than six feet. Most sleeping bags are designed as unisex models.
Sleeping Bag Materials
We could write an entire article on these subjects, but here are the basics.
1. Down Sleeping Bag Basics
Down sleeping bags (usually made from goose or duck down and feathers) are lighter, can be compressed down to a small size without damaging the fill, and provide more warmth than a synthetic-fill bag of equal weight. However, they lose much of their insulation value if they get wet, can cause allergy issues for some people and are more expensive than synthetic bags. Down is rated by "fill power" (measuring volume) from 400-800; don't go below a 600 rating.
2. Synthetic Bags
Synthetic bags are normally made from some sort of polyester and are a good less-expensive choice for more casual camping. They can still be comfortable but aren't as cozy – or warm – as down sleeping bags, weigh more and take up more space when packed. But they still stay somewhat warm after getting wet and are hypoallergenic. You'll only find cotton used as fill in the cheapest bags.
Those cheap options often use cotton for an outer shell as well, but the material is heavy and a real pain when it gets wet. Look for either polyester or nylon outer shells, with polyester a medium-cost choice that is lightweight and breathable, and nylon the high-end choice for its durability. The best sleeping bags for heavy use or tough conditions will have a Gore-Tex (or similar) waterproof outer laminate.
Sleeping Bag Ratings
Staying warm is, of course, crucial. Most bags are rated by their manufacturers for the lowest temperature they should be used in, but since those aren't government standards it's a good idea to buy a bag rated for a slightly lower temperature than you expect.
American companies are also starting to use the European EN13537 three-level rating system, which has temperature ratings for women (called the comfort level), for men (called the lower limit), and the absolute lowest temperature you survive at (called the extreme limit). You may see both ratings for some bags, or ratings for the number of seasons in which the bag can be used.
When thinking about bags' temperature ratings, be sure to remember that you'll be warmer when you sleep in a tent or in your clothes, so you won't need a bag that's quite as heavy.
All other considerations are relatively unimportant; once you decide on a style, and think about where and how you'll be using your bag, everything else will fall into place.
Here's Groom+Style's rundown of the top 5 best sleeping bags.
It would be difficult to find another sleeping bag with all the KSB 20 has to offer at such a reasonable price. This Klymit mummy bag is made from 650 fill power 80/20 duck down and is rated to 20 degrees.
It weighs well under three pounds and packs down to 13 x 8.5 inches, not the lightest or smallest you can find, but fine for most campers and backpackers and exceptional for its cost (unless you want a red bag instead of a black one since the red bag costs more for some reason).
The KSB 20 is also extremely well-manufactured, with some thoughtful design details that impressed the review team. There are five opposed baffles in the oversized foot box, flexible baffles toward the middle of the bag and an expanded chest area, keeping you toasty but allowing unusual comfort around your midsection and upper body.
There's also an adjustable neck collar and mummy hood, and a 3/4-length zipper that doesn't snag (fighting with a zipper in cold weather is one of our pet peeves). The bag is machine washable and dryable (when using manufacturer-recommended precautions), too.
The Klymit KSB 20 would be a terrific sleeping bag at any price, but it's even more impressive when you consider its actual cost. The temperature rating is legitimate, the bag is very comfortable, and we feel that only extreme campers or backpackers would need anything more.
Facts and figures on the Klymit KSB 20 Down Sleeping Bag:
Shape: Mummy
Size: Standard
Fill: 650 fill power 80/20 duck down
Shell: 20D nylon
Temperature rating: 20 degrees, three-season
Pack size: 13 x 8.5"
Weight: 2.75 pounds
Warranty: Lifetime, limited
Kelty has improved this mummy bag, now using 600 fill power DriDown instead of the 550 it used to utilize, and that makes the Cosmic 20 better than ever. "DriDown" is a relatively new hydrophobic polymer treatment applied to the individual plumes, which keeps them dry ten times longer than untreated plumes and lets them dry faster if they get wet without losing any loft.
That doesn't mean you should take this bag outside to sleep in a rainstorm, but it essentially wipes out a major disadvantage of down bags, their susceptibility to moisture. And a dry bag is a warmer bag.
[youtube id="TnWg4KhfVvY" width="750″ height="340″ position="left"]
The other big advantage to this Kelty is that it's a long bag, ideal for tall campers or hikers up to 6'6" in height. (They do make a standard-sized version as well.) It weighs just under three pounds, packs at 14 x 8", and the 20-degree rating is legitimate.
A large mummy bag that's slightly more expensive and slightly less comfortable than the Klymit, but stays dry much longer – the Groom+Style review team had a tough choice to make, finally placing the Kelty Cosmic Down 20 at #2. You can't go wrong with either one.
Looking deeper at the Kelty Cosmic Down 20 Degree Sleeping Bag:
Shape: Mummy
Size: Long
Fill: 600 fill power DriDown
Shell: 50D polyester and ripstop nylon
Temperature rating: 20 degrees, three-season
Pack size: 14 x 8"
Weight: 2.8 pounds
Warranty: Lifetime, limited
Check Kelty Cosmic Down 20 Degree Sleeping Bag Price on Amazon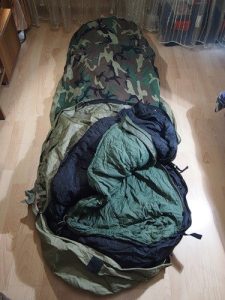 Here's the Cadillac of mummy bags – in fact, it's an entire sleeping bag system. The price of the MSS is nearly twice as high as the #1 choice in our rankings of the top 5 best sleeping bags, but we challenge you to find an environment that's "too cold" for this high-end collection built the same way Tennier builds it for the US Army.
The set comes with two mummy bags, one of them rated at 30 degrees and the other rated at -10. You can also snap them together, giving you protection down to -30 degrees, and there's a waterproof Bivy cover made from three layers of Gore-tex.
The construction is impeccable, with extra insulation in the comfortable foot box, a quilted chest collar, a reversible double-pull zipper with snap fasteners, and an adjustable hood. The insulation is synthetic foil but it's extremely effective and bounces back strongly. All of this makes for a heavy package – but an incredibly warm one that's even machine-washable.
You might not want to hike long distances with the Tennier set on your back, and it's expensive. But if you have to brave sub-zero weather regularly there's no better choice.
Specs for the Tennier Industries US Military -30 Degree Mummy Modular Sleep System:
Shape: Mummy (2 separate bags)
Size: Regular
Fill: Synthetic foil material
Shell: Fray-resistant ripstop nylon
Temperature rating: -30 degrees
Pack size: 22 x 14"
Weight: 11 pounds
Warranty: Not specified
Check Tennier Industries US Military -30 Degree Mummy Modular Sleep System Price on Amazon
They've named this bag "ultralight," and it is – for a synthetic bag, that is, at just over four pounds. The real attraction, however, is the warmth of this Teton mummy bag. A newer type of lightweight micro-fiber insulation called PolarLite, with extra insulation in the bag's vaulted foot box, is the key to the surprising temperature rating of the Sports Tracker.
This bag is built to be a little more spacious than the normal mummy sleeping bag which makes it quite comfortable, the top-and-bottom zippers on both inside and outside make it easy to get in and out, and the hood closes nice and tight.
Best of all, since this is a synthetic bag it's water-resistant and priced well below the down models at the top of our Groom+Style rankings.
The review team was very impressed with the Teton Sports Tracker. The +5 rating may be a bit overstated but not by much; this is a warm bag, very light for a synthetic, and a great value.
More details on the Teton Sports Tracker +5 Ultralight Sleeping Bag:
Shape: Mummy
Size: Regular
Fill: Synthetic PolarLite
Shell: Ripstop nylon
Temperature rating: 5 degrees
Pack size: 15 x 9"
Weight: 4.1 pounds
Warranty: Lifetime, limited
Check Teton Sports Tracker +5 Ultralight Sleeping Bag Price on Amazon
Our final bag isn't for avid backpackers, adventurers headed to the Arctic Circle or those who are training to climb K2. Campers who want the most comfortable sleeping bag they can find for a semi-luxurious night of communing with nature, though, won't be disappointed with the rectangular-shaped Coleman Comfort Cloud.
The secret to this bag? The thick layer of memory foam underneath the synthetic insulation and ultra-soft fleece around the bag's opening will (almost) make you feel like you're snug in your own bed and provide extra warmth.
Machine-washable, well-made and roomy, it's as close to luxury as you'll get while sleeping on the ground.
This Coleman isn't designed to keep you protected in sub-freezing weather, and it's a bear to lug around. The very reasonable price and extreme comfort make this a great bag, however, for casual campers.
Digging deeper into the Coleman Comfort Cloud 40 Degree Sleeping Bag:
Shape: Rectangular
Size: Regular
Fill: Polyester, with memory foam underneath
Shell: Polyester
Temperature rating: 40 degrees
Pack size: 18 x 13"
Weight: 6.4 pounds
Warranty: One year, limited
Check Coleman Comfort Cloud 40 Degree Sleeping Bag Price on Amazon
If you are serious about heading into the great outdoors then you might want to update your two-person camping tent or backpacking tent. If you're interested in finding great ways to get a good night sleep when you're not camping outside, we have a great article on that subject as well.