Aiming for the utmost comfortable grooming sessions? Selecting the best product from trusted brands is a must to get the best out of your self-grooming routine.
In the world of myriad choices of grooming products, Wilkinson Sword exists as one of the leading companies with quality products. In fact, Wilkinson Sword has been operating for over 100 years.
Let's dig deeper into what this company has to offer for your proper grooming agenda!
What is Wilkinson Sword?
Wilkinson Sword is a UK company that has been crafting quality personal care products since 1772. Initially established by Henry Nock, this company was then handed over to his foreman, James Wilkinson, in 1804.
Then, James' son, Henry Wilkinson, joined the company, and the name was renamed James Wilkinson & Son. Eventually, the company turned into Wilkinson Sword Company in 1891.
The first ever product released by this company is razor blades, hence its popularity. In the modern day, Wilkinson Sword's products remain popular on the market and are known for their durability and design.
People love this high-quality brand because of its durability, suitability for any budget, top-notch performance, and low costs.
As the company grows, they start releasing other facial grooming products that cater to your easy, comfortable grooming agenda.
Types of Wilkinson Sword Products
Now, Wilkinson Sword offers a wide range of products. From razor to face moisturizer, here's the guide list!
Razor
PROTECTOR 3 RAZOR
The Protector 3 Razor is an excellent value-for-money option for quality razors. The razor blades are coated with Alpha Diamond, making them sharp with outstanding performance.
The three blades with a Micro Guard System in this razor provide a more precise and effortless experience than standard twin-blade razors while still being gentle on your skin.
Plus, it has a built-in Aloe Vera lubrication strip that releases extra protection as you shave — keeping your skin feeling soft and smooth all day long.
QUATTRO TITANIUM SENSITIVE RAZOR
Even better, this product offers not three but four blades crafted to aim for precision, especially for sensitive skin.
With four razor blades made from titanium-coated stainless steel, this razor glides smoothly through your sideburns, beards, and under the nose, providing a clean finish with minimal effort.
Plus, it comes with a built-in lubricating strip with Aloe Vera and Jojoba for a smoother glide and more comfort. The easy-to-grip rubber handle also ensures safe and secure handling while you shave.
HYDRO 5 SKIN PROTECTION ADVANCED RAZOR
The ultimate on the list, the Hydro 5 Skin Protection Advanced razor offers incredible performance for your shaving routine.
Every aspect of this product — razor blades cartridge, lubricating system, and handle — is designed to enhance skin guards. This way, it helps protect against nicks and cuts.
The best parts of this product are the gel pools with Menthol and the built-in shock absorber. The gel pools will help you shave the hard-to-reach areas with just a flip. Then, the shock absorber can sense different levels of pressure and adjust automatically to provide a maximum level of pressure.
With this revolutionary razor, you'll get advanced protection.
Trimmer
SHAVE & STYLE TRIMMER
Fancy an electric trimmer instead? It's time to step up your trimming game with Wilkinson Sword Shave & Style Trimmer. This tool is a great option for those who aim to look their best with minimal effort.
With 3-precision combs and unique dual-sided stainless-steel blades, this trimmer lets you create any look — from cleanly shaven to stylishly stubbled — with ease and accuracy.
Plus, it includes an ear & nose trimmer to trim unwanted hair from your nose and ears. Also, you can use it just fine in your bathroom for up to 45 minutes since it's waterproof and doesn't need electricity to work — battery and USB included!
Using advanced technology and modern design, the Wilkinson Sword Shave & Style Trimmer lasts up to 4 months before you have to replace the blades.
Shave care
BARBER'S STYLE POST SHAVE BALM
Dream of having a barbershop feeling to your shaving routine at home? This product can help.
Designed to restore the skin after a close shave, this product will make you finish your shave with a cooling breeze. Developed with barbers for professional use, this light and non-greasy post-shave balm has been specially formulated to cool, soothe and hydrate your skin.
Its unique blend of shea butter and Menthol provides immediate relief from discomfort caused by shaving. The delicate scent of Mint Forest even helps to mask any odors that can occur after shaving.
Less is more — use only an almond-sized drop of its balm on your face and neck. With this amount alone, you'll feel refreshed in an instant.
BARBER'S STYLE SHAVE CREAM
BARBER'S STYLE SHAVE CREAM from Wilkinson Sword is the perfect choice for a barbershop-style shave.
With a creamy, non-foamy formula, this luxurious shaving cream helps your razor glide across the skin for a smooth finish.
The added macadamia seed oil gives you that refreshing feeling you expect from an old-fashioned barber's shave. Plus, it has an elegant scent of sandalwood, elevating your shaving experience.
Less is more — use only an almond-sized drop of its balm on your wet skin to form a thin layer. Then, shave it up right away.
Beard care
BARBER'S STYLE BEARD OIL
If you want to elevate your beard game to the next level, Wilkinson Sword's Barber's Style Beard Oil is just what you need.
Not only does it help keep your facial hair looking and feeling its best, but it also helps revitalize and hydrate your facial hair. It contains a blend of argan, jojoba, and avocado oils that deeply nourish the skin and prevent beard itch and stubble dryness.
Plus, its subtle blends of cedar scent and eucalyptus will ensure you experience a barbershop-like shaving session!
BARBER'S STYLE BEARD BALM
Styling and shaping your beard has never been easier if you use BARBER'S STYLE BEARD BALM. With this balm, you can experiment with any beard style for a brand-new look.
Containing shea butter, jojoba oil, avocado oil, and sunflower oil blends, this product helps a ton in styling up your beard and nourishing it.
The best part? It has an earthy scent of cedar with eucalyptus as the sharp tones — creating an intimate barbershop-like experience during beard styling!
Face care
BARBER'S STYLE FACE WASH
After a long, hard day outside, it is best to clean up the mess on your face using the best face wash. BARBER'S STYLE FACE WASH is the answer for clean, thorough results.
Formulated with no fragrance, this product is suitable for any skin type, even sensitive ones. Also, it won't make your skin dry afterward. In fact, it will leave your skin cleaner and smoother after use — thanks to the simple, nourishing ingredients.
BARBER'S STYLE FACE MOISTURISER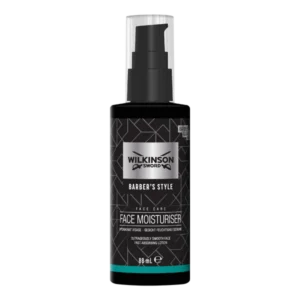 Sometimes, even non-drying facial wash can't help dry, flaky skin. That's why Wilkinson Sword came up with this moisturizer product for keeping your skin plump and hydrated.
What makes it more interesting is that it is crafted with apple extract, niacinamide, and Centella Asiatica as the ingredients. Also, it is fragrance-free — best for someone with sensitive skin.
With daily application, this product will surely help your skin to be more hydrated with no flaky parts here and there.
Most Frequently Asked Questions
Is Wilkinson Sword good?
Our short answer: yes, Wilkinson Sword is a good brand with top-notch products. They have superb durability, strong blades, sharpness, and smoothness retainer for beards over many cuts.
Besides the razors, Wilkinson Sword also offers many selections of face care, including beard care, shave care, and even trimmers!
Having been operating for more than a century, this brand is undoubtedly a great option for anyone looking for excellent grooming sessions in life.
Are Fiskars and Wilkinson Sword the same?
Fiskars and Wilkinson Sword are not the same.
However, Fiskars once used the Wilkinson Sword brand to release their gardening tools, but they stopped it in 2010. Then, Fidkards used their original name again until now. With the name being reverted back to the parent company's name, the gardening tools products still remained the same.
Conclusion
All in all, Wilkinson Sword is a great brand that has been in the market for many years. They make some of the best blades in the industry, and their products are top quality.
If you're looking for a new razor, blade, or even other facial care products, we recommend giving them a try. They offer excellent quality products on a budget!