DIY Faux Granite Countertops: A Quick and Clear Guide for You
When it comes to fixing up a kitchen, granite countertops are on the top of most homeowners' lists.
Granite is a natural stone that offers beauty, style, and clean, modern elegance, but it also comes with a big price tag.
This is why many homeowners are turning to DIY methods that create gorgeous faux granite effects using their original counters.
DIY creatives have found inexpensive painting techniques and faux granite overlays to make their worn out faux laminate, solid surface, tile, and even wood countertops look like stunning granite.
With the DIY faux granite technique, any homeowner can bring granite-like beauty into their kitchen at a fraction of the cost.
Faux granite countertops aren't just for kitchen countertops either – although your countertop microwave oven will look great on one. Many homeowners find these techniques to be the best way to paint their bathroom countertops to look like granite as well.
First things first. Do you know how to install granite? Because it's something you'll have to hire out. But if you want to learn more about the techniques and supplies needed to install granite in kitchen counter or etc, check out this guide.
How to Make Your Own Faux Granite Countertop
If you're working on your kitchen countertops painting is the best way to preserve the longevity of your faux granite finish. Granite-style contact papers, on the other hand, are well-suited for bathroom counters and other dry space.
DIY Tips for Refacing Your Countertops
Gather all your equipment and materials ahead of time.
There's nothing worse than having to leave your kitchen in disarray or put your plans on hold while you get last minute foam brushes.
No matter what method you choose, for your countertop renovation to look its best you'll need to clean the counters thoroughly. Scrub away any dirt or grease. Then, rinse twice. Proper cleaning will lengthen your bathroom or kitchen counter's lifespan.
Faux Granite Countertop Overlays
Overlays and contact paper offer a peel and stick option for faux granite countertops that.
This is a vinyl alternative that will not be as waterproof or long-lasting, but offers amazing looking patterns.
Prep your surface.

Scrub your counter clean of debris, dirt, and grease. Then, use drywall spackle, wood filler, or auto body patch to level divots and holes. Use sandpaper to smooth out your patches. 

Then use a gritty sandpaper across the whole surface of the counter and wipe away debris. The paper's adhesive will stick better to a rough surface.
Plan, arrange, and cut.

Measure your space and without adhering cut and arrange your contact paper accordingly. These are preliminary cuts, since you will make the fine cuts when you are done adhering the faux granite overlay. Since vinyl is liable to shrink over time, plan to overlap your seams.

Adhere and smooth out.

Work slowly, attaching a little at a time to install without bubbles. Before cutting the edges use a smoother or rolling pin to get out bubbles.

Cut edges with an exact knife.

Carefully cut the edge of the paper around fixtures and against walls.

For a longer-lasting finish, consider sealing with water-based polyurethane.
Painting Your Countertops with Acrylic Craft Paints or a Kit
Painting your counters will use the same techniques, whether you're sourcing materials yourself or using a kit.
Kits tend to be more expensive, and they give less flexibility when it comes to color selection.
However, they offer a good option for someone who is not confident about selecting their own colors.
How to Apply Faux Granite Paint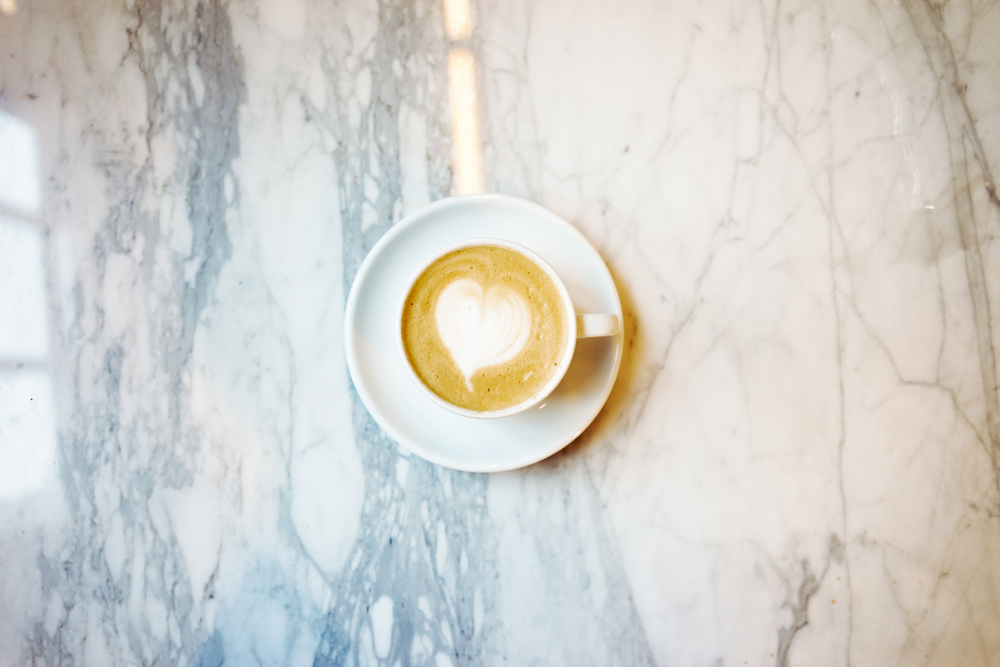 Painting your Countertops to Look Like Granite
Choose a color scheme that will complement the rest of your kitchen design, especially kitchen countertops. It's helpful to have a sample of granite with you while you're painting so that you can reference its texture and appearance.
We recommend practicing your painting order on a piece of scrap wood. This will save you time and effort in case you've purchased colors don't actually work in your kitchen.
Materials
Primer

– The primer should be stain-blocking and oil based. Use black for a darker granite color scheme. For a lighter or beige color or for painting faux marble, use an off-white or cream-tinted primer.

Foam Roller
Foam Brushes
Acrylic Craft Paint

– Pick your acrylic paints based on the colors that you see in your granite sample

Natural Sponge / Paper Towels
Paper Plates

to use as paint palettes

Painters or Masking Tape
Sandpaper

– 220 grit sandpaper for blending and 800 grit sandpaper for sealing

Artist Brush
Glitter Dust

– Choose a color of glitter that looks like the shimmering element you see in your granite sample
Faux Granite Painting Technique for Laminate Countertops
Prep Your Surface

Scour the surface clean and rinse.

Caulk

– Silicone caulk isn't paintable. If your countertop surfaces have silicone seams made of silicone caulk, you can remove and replace it with paintable caulk or caulk over it.

Patch

– Holes or dings in your counters can be filled in with wood patch or drywall spackle. Use sandpaper to smooth out the patched area.

Protect Your Space

– Use painter's tape and plastic tarps to protect the rest of your kitchen, including cabinets, floors, the sink, and walls.

Prime

– Use a foam brush and roller to paint the entire surface with primer. Then allow it to dry.

Paint the Counters

For base coat, apply paint with a sponge or paper towels randomly over the countertop.

Switch colors and continue dabbing so that you get layered effects.

To simulate granite's veining, add in diagonal lines of darker colors, such as your primer or a darker color in your scheme. Dab with paper towels for thicker veining, and paint finer veining very lightly with an art brush. Using one of your more neutral colors very lightly dab back over your veining.

Add in some glitter. To make the glittering effect of natural stone try out a few methods and see what best suits your style.

Lightly sprinkle glitter over the counter

Mix glitter into a paint color for dabbing or splattering by flicking with a toothbrush
Sand down your paint job.

A fine grit sandpaper will smooth your countertops while blending your coats together to make them look like natural stone.
Making the Design You Want
Granite designs are easy to paint because of their splotching methods.
Nonetheless, for those who want to experiment, painted countertops can make beautiful marble countertops and quartz countertops effects as well.
Remember that mistakes aren't permanent. If you aren't getting the effect you want, you can sand down the top layers, or prime over the whole thing and begin again.
Sealing Countertops
Sealing the countertop is a necessary step to protect it from water, food spills, cleaning agents, and scratching from countertop appliances such as microwaves or blenders.
Foodsafe Sealer Options for Painted Countertops
Polycrylic – This option is fume free and the easiest to use and sand. And it is durable enough for countertops. You may consider resealing once a year to maintain the glass-like finish.
A Food-grade Epoxy Resin, such as Envirotex Lite – This is a strong glass sealant that is trickier to install but will make durable countertops.
Liquid Glass – A non-toxic, spray-on waterproofer made of silica that may be used along with wax for maintenance.
How to Seal your Faux Granite Countertops
Use foam brushes to install the sealant. You'll want to work quickly when you have wet sealant on the counter. If you are sealing a large space, you can work in patches.
It's easiest to keep your sealant in a plastic bottle and squirt out and spread it as you need. This will keep it from drying and settling as you try to work, causing a bumpy or textured finish.
Once a coat of sealant dries, sand it smooth with 800 grit sandpaper. Then repeat the process for at least three coats.
While your DIY granite countertop won't have granite's heat resistance, they will have its beauty at barely a fraction of its cost. Opting not to install natural granite will also save you the headache of professional cutting and installation when working other kitchen tune-ups such as getting a new stove or even installing a different-sized dishwasher.