Best Handcrafted Shaving Soaps from Declaration Grooming
Declaration Grooming is a company that creates handmade shaving products. This brand produces many products. One of them is shaving soap which is quite popular among men. For those of you who are curious to know about shaving soap products from Declaration Grooming, you can see the following reviews.
About Declaration Grooming Shaving Soap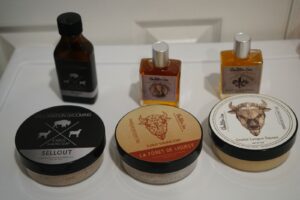 Scott Stewart, the brand owner of Declaration Grooming, creates all the shaving soaps. Years of research and hard work went into creating some of the best shaving soaps on the market. If you are looking for an organic beard soap or the best shaving experience possible, look to his products for assistance.
All the shaving soaps on the site are handcrafted and designed specifically for modern men's tastes. Many scents are already available, with new ones being added regularly.
Pros and Cons Declaration Grooming Shaving Soap
Pros
Unique scents are available.
Handcrafted shaving products for everyday use.
Lathering is simple.
The Milksteak ingredient base is a significant improvement over the Icarus ingredient-based products.
Shaves without incident.
Cons
Not all users may be able to afford it.
Certain scents may be in short supply.
This is a niche product that is not for everyone.
How to Use Declaration Grooming Shaving Soap
Because each Declaration Grooming shave soap has distinct properties, you should investigate these before shaving. It may be challenging to get the gist of it on the first try, so we recommend doing a few practice runs to moisturize the shaving soap properly. Also, soap is insufficient to remove your beard, so a good safety razor can help you improve your shaving skills and achieve excellent results.
To create a perfect lather with these unique shaving soaps, begin by:
Fill your shaving bowl halfway with warm water. Soak the shaving brush in water for a few minutes to loosen the bristles slightly. Squeeze the brush to remove some water, but not all of it.
To your soap, add a few drops of water. Swirl the brush through the soap to lather it up. If necessary, add more water. Swirl your brush around in the bowl to create a rich lather.
Spread the lather on your face with a brush or your hands once it's nice and yoghurty. Start shaving with a disposable razor with sharp blades. Get a close shave or remove excess facial hairs to maintain a specific beard style. After shaving, use aftershave to keep your skin moisturized.
Types of Declaration Grooming Shaving Soap
Darkfall Shaving Soap
Darkfall is a spicy oriental created to evoke the spirit of autumn in the rural south. The cinnamon and clove top notes are supported by a deep, warm base of agarwood, amber, and benzoin. Birch tar imparts a slight smokiness, representing the ever-present aroma of burning leaves that heralds the arrival of fall in Georgia.
Cerberus Fougere Shaving Soap
Something dark and sinister has risen to the Earth's surface and made its home on the forest floor. An escaped Cerberus prowls the undergrowth, covered in moss, flowers, and spices and smelling strongly of the resinous underworld.
Corner him at your peril.
Cerberus Fougere begins with a delectable apricot note, supported by spicy-sweet woody star anise.
The balsamic, fruity opening highlights the fruity aspect of Egyptian geranium. In the heart of the fragrance, a faint hint of clove dances. Orris keeps things earthy, with herbaceous woody lavender and sweet nutmeg balancing the rounder fruity notes.
The dry down is lush, balsamic, resinous, and mossy. Nothing is sharp, bitter, or leafy here; everything is dark and languid. The thick sap of an 800-year-old black hemlock flow, its movement imperceptible, gives the impression of extreme power at rest.
In a resin celebration, labdanum, opoponax, and styrax mingle with balsam fir and black hemlock. Patchouli, vetiver, and cardamom provide spicy/woody forest floor notes and a beautiful dark green moss accord. A hint of coumarin and a powdery woody musk provide softness and warmth to the fragrance.
Vernal Shaving Soap
Vernal is the time of year when everything is waking up but isn't quite ready to bloom. The outside is reviving, with fresh rain washing away winter and bringing new buds to branches—Green, clean, and fresh.
Dirtyver Shaving Soap
Dirtyver is the next step in the evolution (or devolution, depending on your perspective) of Marshlands, our unapologetic vetiver scent. This is not the type of vetiver you would take home to meet your parents. This vetiver will take you out, show you things you've never seen, and introduce you to debauchery found only in your wildest imaginings.
Daemon Shaving Soap
This Daemon's sole purpose is to make you smell offensively good. Oak vanilla notes combine with the warmth of amber and the spiciness of cardamom and frankincense to create an approachable year-round scent.
Conclusion
When you begin using Declaration Grooming shaving soap products, you will immediately notice a difference, mainly if you have previously used regular soaps. These are higher-quality shave soaps that aim to provide a richer lather with distinctive scents. Shaving results are much improved, as you get smooth skin with minor irritation. After shaving with these products, you can use professional toner for men.