Finding your signature scent might be tricky. Since everyone is different, not all scents work well with every person's body chemistry. However, if you're the type who wants to leave a masculine, mysterious impression, choosing woodsy cologne is the best option.
Contrary to other fragrance types on the market, woodsy perfume exudes layers of natural warmth and depth, leaving a gentle, pleasant impression on people who smell it. Therefore, this fragrance is among the best types of men's fragrances.
Dream of having a heavenly, smelled cologne that exudes masculinity? Check out this guide to fragrances as well as the best woodsy cologne products for your inspiration!
Types of Wood Fragrances
The masculine wood fragrances come in various notes, including sandalwood, cedarwood, vetiver, pine, patchouli, and resin. Each note delivers distinct scents yet a similar alluring finish. Check out the details below!
Sandalwood
Sandalwood is often derived from the genus Santalum, a thick, yellow wood with a lingering scent. Typically, sandalwood has a deep, sweet aroma with mellow wood notes. It clings to you and has a unique, understated quality that lasts a very long time.
Cedarwood
Typically, cedarwood comes from cedar trees, which are common in the Himalayan and Mediterranean areas. When cedar cologne hits the skin, its warmth and richness are often revealed. Cedar cologne typically has a woodsy, dry aroma.
For individuals who enjoy smelling like the outdoors, it pairs nicely with other elements like citrus to produce a fragrant, musky aroma.
Vetiver
Vetiver is a type of mossy grass that grows over riverbanks and other marshy areas under wet conditions. It has a slight citrus scent that blends with notes of leathery, woodsy components.
Because of its calming effects, vetiver is frequently blended with other smells like patchouli and sandalwood.
Pine
The pine notes exude a spicy, outdoorsy, and refreshing scent that is crisp and addicting. This scent resembles nature, so if you are into fresh, earthy smells, you'll have to consider choosing colognes with pine notes.
Patchouli
Coming from the mint family, patchouli smells sweet and herbaceous, with a hint of mint and wood. Contrary to popular belief, this scent is not related to the hippie only because it smells like marijuana.
The trick to wearing this fragrance is to use it moderately to avoid overpowering scent.
Resin
Resins are made from sap that gathers in a tree's "wounds.". It has a somewhat vanilla-woody scent that blends perfectly.
Things to Consider When Buying Woodsy Colognes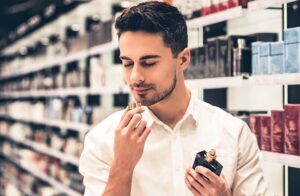 These are several things to consider before buying woody colognes:
Basically, buying perfume requires knowledge about your own skin type. If you're interested in woody colognes, you must know whether the notes will react badly on your skin and end up irritating.
Also, fragrances react differently to each person's skin temperature, so you might want to consider this, too.
When it comes to woody fragrance, it's always a matter of individual taste. Some people love the "what you smell is what you get" philosophy with their woody colognes and will desire a woody cologne that doesn't alter while you are wearing it.
However, not all woody colognes are made similarly — some products have different top notes, middle notes, and base notes. Thus, it is essential to try a tester before purchasing a woody cologne.
Not all colognes are made suitable for any occasion. Therefore, you must fit the woody fragrance with the occasion you're attending.
Usually, people want to smell more professional during the day and sensual at night, though it's not a must. Still, you must pick your woody fragrances accordingly.
The temperature has a significant impact on the strength of a woody fragrance. Thus, changing your woody perfumes based on the season is recommended.
Usually, fruity and floral fragrances are most liked during summer. Meanwhile, winter fragrances tend to be warm and spicy.
Well-known woody fragrance brands have a high chance of delivering outstanding quality. However, it's also recommended to buy woody fragrances from promising small brands that concentrate on one thing.
You don't have to buy expensive woody fragrances to smell amazing. In fact, there are myriad choices of reasonably priced woody fragrances in the market. So, please be wise in spending your money on woody fragrances.
7 Best Woodsy Cologne Options
Here are the seven best options for woody fragrances for your inspiration. Read on!
Bourbon Amber by The Art of Shaving
Inspired by cask-aged bourbon distilled to its essence, this The Art of Shaving cologne is the ultimate choice of wearable day-to-night woody fragrance.
The spirit-inspired, masculine scent exudes a rich, woody base blending with a warm, vanilla heart. It is a sophisticated, intense, and long-lasting product with a reasonable price compared to other designer brands.
Key Features
Inspired by cask-aged bourbon
Wearable from day to night
Woody base notes with a warm vanilla heart
An intense and long-lasting masculine scent
Reasonably priced
Tom Ford Oud Wood
Oud wood has recently been one of the hottest notes of woodsy fragrances among perfume aficionados. This Tom Ford Oud Wood delivers what the people expected it to be: warm and strong yet sensual and inviting woody scent.
With floral, spicy top notes, woody middle notes, and sweet base notes, this cologne is perfect for all occasions.
On top of that, the timeless aesthetic black-grey bottle is a perfect addition to your cologne collection.
Key Features
Timeless aesthetic bottle packaging
Exudes a warm and strong yet sensual and inviting woody scent
Perfect blends of woody and sweet vanilla scent
Royal Oud by Creed
Royal Oud's luxury perfectly suits gentlemen of a certain elegance. With its long-lasting longevity and complex depth, this product will elevate your presence, even on casual occasions.
It is rich, woody, and oriental. The base notes of this regal Eau de Parfum are made up of sandalwood, Tonkin musk, and oud, while the top notes of lemon, pink pepper, and bergamot give it a modern twist.
Key Features
Elegant oud scent
Long-lasting longevity
Complex depth
It Exudes rich, woody, and oriental scents
Pink pepper and bergamot give a modern twist
Dsquared2 He Wood Rocky Mountain
Channel your inner adventurer with this super woody, breathtaking Dsquared2 He Wood Rocky Mountain. Its blends of incense, musk violet, amber, Canadian lily, and cedar truly bring out your natural sense.
It is ideal for outdoor activities. However, you can also use this for office or casual events. With its masculine fragrance and long-lasting formula, you'll get to smell fresh, even at the end of the day.
Key Features
Ideal for all seasons and occasions
Strong and fresh woody smell
Most suitable for outdoor activities
Long-lasting longevity
Splendid Wood by Yves Saint Laurent
The earthy fragrance of Yves Saint Laurent's Splendid Wood will surely make you a head-turner once you wear it.
This unisex product features strong, balanced woody notes like cedar and oud with blends of elegant jasmine petals to simultaneously provide cool and warm character. It also exudes fresh scents for daily activity.
In addition, the classic Yves Saint Laurent bottle is a gem to keep with its goldish elements, presenting a classic yet bright aesthetic.
Key Features
Unisex product
Strong and balanced woody notes spark a fresh scent
Provides cool and warm character at the same time
Classic Yves Saint Laurent gold bottle to collect
Armani Eau D'Aromes
This signature style from Armani Eau D'Aromes flaunts a combination of earthy scents and strong citrus elements.
The citrus component of the smell is well-complemented by the bergamot and mandarin top notes. They combine with base notes of cardamom, sage, and vetiver, middle notes of ginger and patchouli, and the surprising additions of vetiver and patchouli to create a distinctive perfume that is unmistakably influenced by nature.
This mood-enhancing, confidence-boosting cologne comes in a simple, clear bottle with a shiny black cap — a perfect addition to your perfume collection.
Key Features
Flaunts perfect blends of woody and citrus scents
Strong notes
Simple, elegant bottle packaging
Enhances mood and boosts confidence
Fan di Fendi Pour Homme Assoluto by Fendi
This one is a bold choice for men who favor dynamic woody scents. Its cardamom and pink pepper top notes are followed by oud wood and grassy vetiver middle notes, creating a spicy notes aroma. Eventually, it is closed by opoponax resin as the base notes, topping off everything perfectly.
From the scents to the bottle, this product sparks luxury and elegance.
Key Features
Dynamic, spicy wood scents
Suitable for bold men
Sparks luxury and elegance
Conclusion
Woody perfumes are the perfect choice for men who want to leave a masculine, strong impression without being too overpowering.
If you want to go strong with a bold woody smell, go for Tom Ford Oud Wood or Dsquared2 He Wood Rocky Mountain. Meanwhile, if you want a subtler option, choose Bourbon Amber by The Art of Shaving.
Choosing woody perfumes doesn't have to be difficult. With these recommendations in mind, you'll find the perfect scent for any occasion. Be sure to test out several before making your final decision. And remember, don't be afraid to experiment until you finally find the perfect signature scent.
So, which one catches your attention to be your next go-to product?