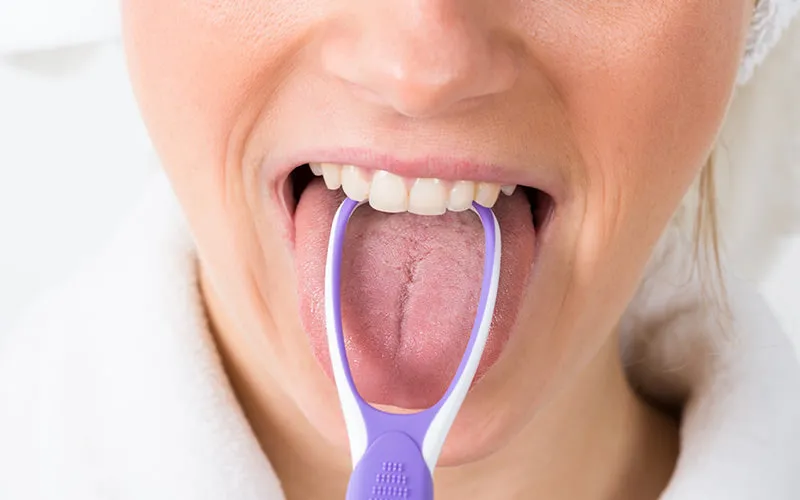 Having clean teeth doesn't guarantee you not get bad breath. Just as using a toothbrush to clean your teeth is essential to your oral hygiene, cleaning your tongue also plays a big role in avoiding bad odor.
If you're looking for a method to get a clean, fresh start, tongue scraping is the answer. Tongue scrapers are simple tools that can help remove bacteria and debris from your tongue, making it feel refreshed and healthier.
If you want to keep your mouth squeaky clean, and healthy, finding the right tongue scraper can make all the difference.
With so many different products on the market, it can be difficult to select the best one for you.
Ahead, we will guide you through some of the best tongue scraper products and their features to find the perfect product for your needs. Read on!
What Does A Tongue Scraper Do?
A tongue scraper is a small, handheld device used to scrape excess food and bacteria from the surface of your tongue.
This simple tool can help to improve your oral hygiene by removing plaque and leaving you with a more balanced, clean taste in your mouth.
Tongue scrapers come in a variety of shapes and sizes, but the most common type looks like a curved metal or plastic spoon with an angled handle that allows you to hold it comfortably while scraping your tongue.
To use one correctly, you should start at the back of your tongue and scrape forward gently several times until you reach the tip. This action removes microbes, food particles, and other debris that build up on the tongue over time.
In addition to helping maintain good oral hygiene, regular use of the best tongue scraper can also help freshen breath by releasing stagnated saliva, which can lead to foul odors in your mouth.
What to Look for in Tongue Scrapers
When shopping for the best tongue scraper, it's important to consider a few key features. Here are the features that you should look for:
Look for one that is made of high-quality materials, such as stainless steel or plastic tongue scraper, which won't corrode over time.
Stainless steel is the best choice, though, since it can be cleaned and disinfected after each use. Also, it's more durable than plastic tongue scrapers.
Be sure to read reviews and check manufacturer information to ensure the product is safe and effective before purchasing it. This way, you won't waste your money on unworthy products.
Please pay attention to the size and shape of the scraper itself; some are designed for wider tongues, while others are better suited for narrower ones.
The angle of the handle should also be comfortable. If it feels awkward or difficult to maneuver, then you may need to look at a different design.
You'll also want to consider how often you plan on using it; some scrapers can last up to several months or years with regular use, while others may need frequent replacement. If you need one with great durability, always opt for a stainless steel tongue scraper.
Besides the characteristics above, you might also want to get a tongue scraper that includes other additional features, such as storage, pouch, and more.
How We Selected the Tongue Scrapers
Selecting the best tongue scraper is not a simple job to do; it requires some steps. To select the best products on the market, we dig deep into the features of each tongue scraper product.
The first thing to do is research the great potential products. Then, we review the materials, design, customer reviews, features, and price. This way, we can finally come up with a narrowed-down list of the best products on the market.
How To Use a Tongue Scraper
Using the best tongue scraper is simple, but it's important to take the time and do it correctly for the best cleaning experience.
Here's an easy guide for you:
First, gently move the scraper from back to front across your tongue several times in each direction.
To reach every area of your tongue, tilt your head back and scrape from side to side in short strokes. Make sure you press it gently, or you could irritate or damage your tongue.
Once you've completed scraping, rinse off the scraper with warm water and repeat the same process on your other side.
Finally, drink plenty of water afterward to help rinse away any loosened particles during the scraping process.
The entire process should take no more than 1-2 minutes and can be done as often as desired — some people prefer to scrape before they brush their teeth, while others prefer scraping first thing in the morning as part of their regular hygiene routine.
No matter which routine you choose, regularly using a tongue scraper will help keep your mouth fresh and clean all day.
7 Best Tongue Scrapers
After some thorough research, we have compiled the best tongue scraper products for your inspiration. Check them out!
dr Tung's Tongue Cleaner
With its "your breath's friend!" slogan, dr. Tung's Tongue Cleaner is one of the best tongue scraper products on the market. It is designed to help you clean your tongue effectively and with ease.
Its stainless steel construction makes it hygienic, while the two handles with soft grips and curve edges give you great control over the cleaner as you use it.
Plus, it's so compact that you can use it with one or both hands for added convenience. As soon as you start using this little wonder, you'll notice an improvement in bad breath, plaque, and germs on your tongue — leaving your mouth feeling fresh.
Plus, people love it since it comes with a free travel pouch so that you can bring it anywhere easily — all at an affordable price!
Key Features
Curved edge
Stainless steel material
Two-handled design
Compact size for handy use
Minimizes germs, plaque, and debris in the tongue
Freshens breath
Comes with a travel pouch
Orabrush Tongue Cleaner
Why opt for the less if you can get a 2-in-1 brush and scraper in one product? Orabrush Tongue Cleaner is easily one of the most promising tongue cleaners due to its brilliant design.
This tongue scraper is designed to quickly and effectively remove the gunk from your tongue. Its bristles are perfect for scrubbing away the white layer, while its scraper allows it to reach even the hard-to-reach areas at the back of your tongue.
Modeled after a surgeon's scrub brush, this cleaner is great for loosening bacteria that could lead to bad breath. However, some find the bristles too soft to clean their tongue areas fully, so they need extra effort in using this tool. But it is still worth trying since it comes at an affordable price.
Key Features
2-in-1 brush and scraper
Ultra-soft, micro-pointed bristles
Plastic material
Designed after surgeons' scrub brush
DenTek Tongue Cleaner
If you're looking for a great method to prevent a black, hairy tongue, then the DenTek Tongue Cleaner might be your best bet. If you can't stand stainless steel material, this product is a great alternative since it's made of plastic.
Its triple-edge scraper allows you to remove dead skin cells with fewer strokes, while its mint flavor gives you that toothpaste-like freshness.
Furthermore, its low profile and narrow design make it easy to access hard-to-reach areas at the back of your tongue without feeling uncomfortable. Plus, it comes at a very affordable price, so it's a great choice for starters or ones on a budget!
Key Features
Affordable
Plastic material
Triple-edge scraper
Features a fresh mint flavor
Helps prevent the dark, hairy tongue
Narrow design for easy reach for all tongue areas
Basic Concepts Tongue Scraper
Another great news for everyone on a budget: The Basic Concepts tongue scraper offers you affordability that comes in a 2-pack of scrapers!
Made from stainless steel for easy sanitization and long-lasting durability, this product's performance is no joke.
Its unique one-handed design and smooth, curved head make it comfortable to use so that you can access hard-to-reach areas on your tongue with more precision and control.
Also, people love this product since it comes with a clear, hard plastic traveling case. Plus, this two-pack ensures you'll always have a backup when you need one.
Key Features
Affordable
Comes in a 2-pack
Rust-free stainless steel material
Easy to sanitize
One-handed design and smooth, curved head
Comes with a plastic case
MasterMedi Tongue Scraper
Designed after the Ayurvedic perspective, this product offers maximum comfort and performance. Interestingly, it is suitable for both adults and kids!
If you have a problem with a white tongue, this product provides a gentle yet effective way to deep-clean your tongue and minimize the white film caused by bacteria, debris, and dead cells trapped in between the papillae.
Made of stainless steel with contoured soft edges and a flexible curved design, it is easy to maneuver around your tongue without feeling uncomfortable. It also has molded grips for a comfortable hold and better control.
Additionally, this 2-pack comes with individual cases for each one, making it convenient to carry around. Plus, it's also an affordable alternative for such a great product!
Key Features
Affordable
Durable stainless steel material
Suitable for kids, adults, and even pets
Easy to use and sanitize
Ergonomic design
Comes in a 2-pack
Boka Rasana Tongue Scraper
Whether you're attempting to remove the white, coated layer on your tongue or maintain improved dental hygiene, Boka Rasana Tongue Scraper is helpful and promotes a healthier mouth.
Its simple, white-handled design makes this product stand out on its own. Moreover, its 'U' shaped curved edge delivers well-scraping performance without being too harsh to the tongue. Also, you don't have to worry about its durability since it's made of durable stainless steel.
What people love the most about it is the additional linen travel pouch with a drawstring for safety and convenience to bring everywhere. Plus, it comes in a 2-pack, making it a great value buy option.
Key Features
Affordable
Rust-proof stainless material
Simple, sleek design
Comes with a linen drawstring pouch
Maintains oral hygiene
HealthAndYoga Surgical Grade Stainless Steel Tongue Cleaner Scraper
Simple, discreet, and powerful — these are the best way to describe this tongue cleaner from HealthAndYoga. What makes it special is the material: surgical-grade steel — higher in chromium than regular stainless steel — from the edges to the handles.
This tool has a scientific, fluid design that ensures no abrupt corners or edges. Also, it features clinically hygienic jointless grips for longer durability. It's highly flexible, too, ensuring the insert-and-drag process goes smoothly.
If you prefer lowkey brands, this product is perfect since it comes with a plain cotton storage bag that is environmental-friendly. The price is also quite low, too.
Key Features
FDA registered
Made of durable, quality surgical-grade steel
Flexible design
Comes with a discreet and plain cotton storage bag
Most Frequently Asked Questions
Do dentists recommend tongue scraping?
According to the American Dental Association, dentists don't necessarily recommend tongue scraping since the pillars of good dental hygiene are mainly toothbrushing and flossing. However, it doesn't eliminate the benefits of tongue scrapping — you still can do it to clean your tongue!
Which tongue scraper is better: plastic or metal?
It depends on which part you want to pursue: durability or gentleness. If you aim for longer durability, a stainless steel tongue scraper is the better choice since it is more effective and easier to clean. However, it might be too harsh for some.
On the flip hand, plastic tongue scrapers are better if you want to have a gentler tongue-scrapping experience. Also, it is usually more affordable than the stainless steel one.
Is scraping your tongue healthy?
Yes, because it helps to remove bacteria, excess debris, and overall tongue hygiene. However, it might be harmful instead if you apply too much pressure while scraping your tongue. Therefore, please be gentle when you do the tongue cleaning regime.
Conclusion
A tongue scraper is an important tool for good oral health. If you are looking to get a fresh start with your oral hygiene, check out some of the best tongue scraper products on the market above.
From the affordable 2-pack choice to the discreet design, there are sure to be the best tongue scraper products that meet your needs.
Be sure to research any potential side effects before using a new tongue scraper, and always consult with your dentist whether there's any concern about your oral health!