Have you ever experienced finding out a patch of unshaved beards during an important meeting? This is, of course, such an off-putting thing to experience — and you'll probably regret not double-checking your shaving result before going out.
In fact, shaving is a ritual for many men, and having the best shaving mirror can help enhance the experience each time, resulting in a clean, thorough shave.
Whether you opt for an anti-fog, lighted, or handheld option, finding the best shaving mirror to suit your needs can make all the difference in your morning shave routine.
The best shaving mirrors are designed to provide an unobstructed view during shaving. This way, you'll shave thoroughly in all areas of your face. With the right shaving mirror, say goodbye to patchy whiskers in no time.
Read on to find out more details about this shaving gem, including the best shaving mirror products on the market!
What is a shaving mirror?
As you have guessed from its name, a shaving mirror is a type of mirror used specifically for shaving. While shaving is mostly taking place in the bathroom, you might also consider placing a proper shaving mirror in your bathroom.
You can reduce the mess and stress of shaving by installing a mirror in your bathroom.
Because shaving is typically done in the bathroom, a fogless mirror with fogless characteristics is ideal since it can avoid steam accumulation during use. This way, you'll get the best experience and result from your shaving.
Benefits of using a shaving mirror
A shaving mirror offers great benefits for the users, including:
Convenience
You'll have one fixed place to shave daily by placing it in your bathroom. You can do all of your grooming routines in front of this mirror. This way, it will be more convenient to shave every time as you don't need to move places just to do a grooming routine.
Better Shave
A shaving mirror can ensure you never miss a spot again, particularly those that pivot for specific angles.
Also, installing a lighted shaving mirror in your bathroom will give you better lighting for a clearer view of your entire face.
Less Mess
You can use shaving mirrors in the shower because they won't fog up. This implies that you can switch from shaving at the sink to shaving in the shower.
This is practical because it saves you the time it would take to wash or rinse the best shaving cream off before shaving. Instead, using the showerhead can eliminate it while taking a shower as usual.
When you shave in the shower, you only need to clean up the whiskers falling onto the bathroom floor.
This means less mess and less time spent shaving, which you'll probably enjoy if you're a man with high mobility who values effectiveness and efficiency.
Types of shaving mirrors
Heated Mirrors
A heated mirror uses a heating component to fight off the fog. The heating element is placed directly behind the mirror surface and functions by heating the glass, which causes the fog to dissipate.
It's one flaw is that the heating reservoir obviously needs electricity to operate. Some people may have no problem plugging in their shaving mirror; however, some others probably find it difficult.
Attached Mirrors
Similar to heated mirrors, attached mirrors use hot water to heat the mirror by attaching directly to your shower pipe, keeping it clear and fog-free.
This mirror might be your best option if it's not for its hard installation. Unfortunately, it requires extra effort during installation — it cannot be clipped, suctioned, or screwed to the wall — so most will consider this type as a no-go.
Chemically coated mirrors
Similar to its name, this mirror is made fog-free by applying a coating of particular chemicals to the surface. It works to keep the fog at bay so that your reflection is always perfectly clear.
The drawback is that these types typically don't age well. A chemical coating gives mirrors their ability to be fog-free, so when that coating wears off, the mirror loses that ability.
Any chemically coated, best shaving mirror will eventually deteriorate, whether it takes months or years. However, you can extend its durability by regular cleaning and taking it off the shower stall when it's not in use.
7 Best Shaving Mirrors
After some deep research on the market, we have curated the seven best shaving mirror products with various types and performances. Check them out!
ToiletTree Products Fogless Shower
The ToiletTree Products Fogless Shower is the perfect choice for a fog-free shower experience. This innovative product uses patented technology to keep your shower mirror steam-free and fogless to enjoy a clear reflection in the mirror during your daily routine.
Its secure suction cup allows easy installation and removal when needed, making it one of the best shaving sessions solution. Plus, its low profile design ensures that it will not fill up too much space in your bathroom, allowing you to maximize the use of available space.
So if you're looking for an easy way to ensure your morning shave application has crystal clear clarity, look no further than the ToiletTree Products Fogless Shower mirror.
Key Features
Fogless and shatterproof
Water chamber system
Low profile, compact design
Elfina lighted and magnified shaving mirror
Contrary to popular belief, a lighted and magnified mirror is not only used by women to apply makeup but is also popular among men to help achieve a clean shave.
If you're considering buying a lighted and magnified shaving mirror, the Elfina shaving mirror is one of the best. It offers an impressive 10x magnification power and an LED-lighted bezel around the entire mirror's surface.
These features are uniquely well-placed with a mounting system. It features a 360° degree rotating base and a secure, attached suction cup that won't get wet. However, it's not recommended to place this mirror in the shower to avoid it from getting wet.
Key Features
10x magnification power
LED-lighted bezel
Wall-mounted system
360° rotating base
DecoBros Mirror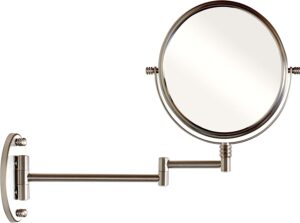 Another magnified mirror on the list! This time, DecoBros Mirror has a quality 7x magnifying power without a distorted view. On top of that, it has an elegant design with an easy-to-install mounting system.
You'll find this classy mirror super helpful during grooming as it features a 360° swivel design and is two-sided.
However, you have to make sure to follow the manual book for the installation to avoid breakage.
Key Features
7x magnification
360° swivel design
Two-sided
Elegant design with a long handle for flexible use
Shave Well Travel Shaving Mirror
Living up to its name, this mirror is your travel best buddy. Measuring 6 x 4 inches, this product is compact enough to bring during travel or simply to use at home, especially if you just need a solid, straightforward shaving mirror.
Despite its basic design, it is made of tough, mirrored plastic to be safer during travel. Also, it includes a suction cup to mount to the wall. However, it required a flat surface to be mounted, so you can simply replace it with a hook if your place does not have a flat surface.
Plus, you'll need extra effort to use it during showering since it doesn't feature a fog-free system. Thus, you must wet the mirror with warm water or simply rub a little soap on it to avoid fogging.
Key Features
Simple, straightforward design
Made of tough, durable plastic
The surface is as reflective as glass
Compact size to bring during travel
Includes a suction cup for mounting
Sharper Image SPASTUDIO Fogless Shower Mirror Bluetooth Speaker
Want to step up your shaving game for the ultimate experience? This Sharper Image's anti-fog shaving mirror features a built-in Bluetooth speaker to spice up your shaving routine. And no, it is definitely not low-quality since it offers high-quality audio!
Moreover, it also comes with a 3-brightness-level LED ring light surrounding the bezel for a clearer view during shaving. Plus, it's totally waterproof so you can use it even during showering.
Another thing that we love about this product is the easy installation. A fully adjustable magnetic mount makes it simple to secure these shower mirrors to a wall mount or charging station.
Key Features
Built-in Bluetooth speaker
3-brightness-level LED ring light
Waterproof
Adjustable magnetic mount for easy installation
Anti-fog
Upper West Collection
This round mirror is among the top selection if you're in need of a fogless, wall-mounted mirror for shaving. Moreover, it has a flexible arm that rotates 360° for easier adjustment during use.
What we love about this product is that it comes with a free bonus razor holder, which you can install anywhere — whether under the mirror or attached to the mirror itself.
This bonus is simple yet thoughtful since you can easily store your razor after every use near the mirror area.
Key Features
Fogless, magnifying mirror
Wall-mounted
360° rotating, locking suction
Comes with a free, separate razor holder
Jerdon Mirror
Uniquely designed with a scissor-like handle and rectangular shape, this mirror is a stunning addition to your bathroom for an easier shaving routine.
What makes it more promising is the smooth 360° swivel design. Plus, this two-sided mirror features two options of magnification level, 1x and 5x, that you can use based on your needs.
Key Features
Unique design with a scissor-like handle and rectangular shape
Smooth 360° swivel design
Two-sided
Two options of magnification levels: 1x and 5x
Conclusion
So, if you are currently in the market for a shaving mirror and want to buy the best one available, we would highly recommend looking at the options we have listed above.
Not only do all of these mirrors provide great value for your money, but they also come with pretty impressive features that will make your morning shave much more enjoyable.
Based on the price and performance, our top pick would be
So, what about you? Which shaving mirror product catches your attention?