If you're looking for a way to add some texture and volume to your hair, opting for the best hair powder for men is your best bet.
Having thin, limp hair is one of the reasons why most men feel insecure. You wouldn't want people to see your hair as an off-putting factor, would you? If so, try adding some volume and texture to your minimalist hair to aim for a more stunning, manly look. Oh, you already have volumized hair? It's never wrong to add some more texture to it!
Many people shift to hair powder since it is easy to use and can be used on all types of hair, from thinning hair to thick locks. It's also a great way to give your style extra lift without weighing it down with styling products. Plus, some products can also conceal your hair loss areas!
With so many options in the market, you might find it difficult to pick the best product for you. Worry no more; we have narrowed down ten products of the best hair powder for men and did a deep review o help you out. Read on!
10 Options of Best Hair Powder for Men
Looking for the best hair powder products in the market? Here are the top 10 hair powders for men that you should try out!
1. SexyHair Big Powder Play Volumizing & Texturizing Powder
Are you looking for an instant boost of volume and texture to your hair? Meet SexyHair Big Powder Play Volumizing & Texturizing Powder.
This hair styling powder is an excellent addition to your styling routine, no matter what length of hair you have. As a dry volume powder, it adds extra oomph in an instant. The formula is odorless, colorless, and residue-free, so it can be a great addition to your hair without leaving a trace behind.
The powder is super lightweight, so it absorbs into your hair's follicles right away. To lift your hair, apply this product at the roots. Meanwhile, sprinkle it through your hair to add texture.
Use this product as your go-to styling property that can be used in many different ways, even in a rush.
Key Features
Lightweight
Colorless, odorless, and residue-free
Transparent formula
Volumizing and texturizing
Suitable for any hair type
2. American Crew Boost Powder
American Crew Boost Powder is an innovative styling product that provides the ultimate lift and volume to men's hair.
It is designed to give your hair fantastic support with medium hold ability while giving it a natural look and feel. This lightweight powder creates a strong grip without being sticky or leaving residue behind.
Moreover, the formula is gluten-free with low shine and a subtle powder scent, making your hair styling session more exciting. Plus, this product is suitable for any hair length.
Key Features
Gluten-free
Lightweight
Subtle powder scent
Strong hair lift
Low shine
Medium hold
Suitable for all hair length
3. Mister Pompadour Texture Powder
Weightless, odorless, and colorless, this invisible hair powder for men is sure to become your best-kept secret.
A volumizing formula that has been specifically designed with messy layers in mind, it's perfect if you have quiffs or pompadour. Plus, it can be used for any hair type and length.
Not only does the product contain no sodium chloride, parabens, or alcohol, but it also won't leave hair feeling stiff or sticky at all after use. Also, this product offers a strong hold that won't weigh down your hair even after hours of use.
Key Features
Suitable for any hair type and length
Stronghold
Lightweight, odorless, and colorless
Sodium chloride-free, paraben-free, and alcohol-free
4. Level 3 Styling Powder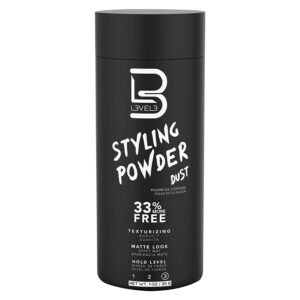 Level 3 Styling Powder is the perfect solution for those looking to style their hair with a matte finish. The product will not make your head feel greasy or sticky, which allows you free reign on how long it can stay in whatever form — curly or straight.
The lightweight, transparent formula leaves no oily residue on your hair, hence the natural look. Moreover, it is easy to apply — sprinkle and spread the powder through your hair evenly!
Key Features
Matte finish
Easy application
Natural look
No oily or greasy residue
Adds volume and texture
5. BOLDIFY Hair Volumizer Powder
Dream of having a hair powder product without a fuss during application? BOLDIFY Hair Volumizer Powder is the best solution.
What we love the most about this product is the packaging. It comes in a bottle spray that makes the application mess-free —it is most helpful when you're in a rush. Just spray it 7-10 inches away from dry hair for an instant lift and volume.
Moreover, the formula is natural and residue-free, leaving your hair to have a light matte finish that lasts all day. Plus, it is stylist-approved, so it is a great choice for you all the way.
Key Features
3x volumizing effect
Refresh second-day hair
Light matte finish
Residue-free, stylist-approved formula
Lasts all-day
Natural & safe certified ingredients
6. OSiS+ Dust It Mattifying Powder
The OSIS+ Dust It Mattifying Powder is a lightweight, dry shampoo-like powder that will give your hair an elegant and textured finish.
This product works by creating friction between strands of hair to create volume as well as shape; it's perfect for all types, but especially those with fine or thinning textures.
For the application, simply pour the product into your hand and use it to style your hair right away for a medium effect. Meanwhile, you can opt for a stronger, more volumized look by pouring it like salt on your head.
Key Features
Matte effect and roughness
Strong control and separation
Long-lasting hold
Strong texture
24 hours volume control
Lightweight powder
Affordable
Gluten-free
7. Toppik Hair Building Fibers
Want to go further than volume and texture? Toppik Hair Building Fibers offer an instant solution to the appearance of thinning hair.
This product is made with natural keratin protein and therefore clings to the individual strands of your own hair, adding thickness and volume in just seconds. Plus, it conceals the appearance of hair loss in no time.
Available in nine different shades, they blend perfectly with both colored and permed hair, making them ideal for any style or look.
Toppik Hair Building Fibers also provide natural-looking coverage that won't run or smear – even when exposed to wind, rain, or perspiration.
Whether you're looking to hide sparse areas or add extra body and bounce to your existing locks, Toppik Hair Building Fibers can help.
Key Features
Conceals the appearance of hair loss
Fills thinning areas
Makes fine hair look thicker
Root touch-up between colorings
8. Got2b Volumaniac Spray Powder
Are you looking for a boost of volume that lasts all day? Got2b Volumaniac Spray Powder is the answer.
This lightweight, quick-drying powder gives your hair an instant lift and long-lasting hold. Its fine micro particles cling to every strand providing grip and support, so your styles stay in place.
With just one spray, you get voluminous hair with a natural result. Perfectly designed for those who want maximum volume without the crunchy feeling that hairspray can leave behind.
Key Features
Paraben-free and sulfate-free
Medium hold
Instant volume boost
Compact bottle spray packaging
Residue-free and sticky-free
Dry mousse formula
9. FEBRON Hair Fibers For Thinning Hair
Another option of hair loss savior for you! FEBRON Hair Fibers are an innovative and highly effective way to combat hair thinning — it conceals thinning areas in no time.
Made from all-natural ingredients, these tiny fibers cling to your individual strands of hair and build volume and thickness instantly. The result is a fuller, thicker head of hair that looks completely natural, even under extreme light.
The FEBRON Hair Fiber application process is remarkably easy and fast. Simply shake the fibers over areas of thinning hair or bald spots, gently patting them into place.
Plus, it comes with 11 natural shades, making perfect matches with your hair.
Key Features
All-natural ingredients
Wind, rain, and sweat resistant
Ultra-light fibers
Clump-free formula
Hypoallergenic formula
Won't clog pores
10. Nishman Hair Styling Series
This unscented hair styling product is an exceptional choice if you need to cover up your white hair thoroughly — just like a magic hair dye!
The interesting thing about this product is the texture. It shifts from light powder to creamy wax once applied to the hair.
Use this powder on damp or dry hair for a light hold with the perfect amount of body. This product does not leave white marks and oily residues, just giving your head an even more natural look!
It's made from silica which creates friction between strands to give you volume without being too stiff that it gives away all its shape after just one wash.
Key Features
Natural matte finish
Unique light powder that turns to creamy wax
Conceal even white hair
Conclusion
So, what is the best hair powder for men? The answer really depends on your needs.
If you want a powder that will add texture and volume to thinning hair, we recommend BOLDIFY Hair Volumizer Powder. For a matte finish that will absorb oil and sweat throughout the day, try FEBRON Hair Fibers For Thinning Hair. Then, try Nishman Hair Styling Series or Toppik Hair Building Fibers for instant concealment of thinning areas.
No matter which product you choose, make sure to read the instructions carefully to get the best results. Get volumized, textured hair with these hair powders!