When in doubt, hair-dye it out! Apart from fashion needs, hair-dying is a common coping mechanism for some women. No wonder; this option is therapeutic to do.
Coming out of a hair salon appointment with a brand-new hair color is a pleasant experience, especially if the color turns out to be the way you wanted it to be.
However, hair salon appointments can be time and money-consuming at times. Luckily, many of these products are available in stores at home and give you the ability to do things yourself, especially hair dyes.
If you're a first-timer in this hair dye field, finding the right products can be confusing, especially with tons of brands out there.
Worry no more; we have curated the nine best hair dye products for vibrant, healthy-looking hair!
How to Choose your Color or Shade
Deciding on the best color for your hair might be confusing, especially if you're new to this field. Experts have stated several ways to make it easier for you to choose the color for your next hair-dying agenda. Check out these three ways!
Skin Undertone
You must be familiar with the three types of skin undertones already: warm, neutral, and cool tone. The easiest way to check the undertone of your skin is by checking your veins in the wrist.
Then, how is your skin undertone affect your choices in hair dyes?
To bring out the best in your hair dye, the tone of the hair dye should match your skin's undertone. It means that if you're a cool-toned person, choose the cool-toned hair dye, and so on.
Eye Color
You can make your eyes look even more vivid by choosing the right best hair dye color, such as blonde hair dye. The best way to enhance their natural beauty and turn them into an absolute stunner, opt for a contrasting hue like caramel or golden blonde if you have blue eye color; green should go with fiery tones of red instead.
Personal Style
If you have narrowed down your skin undertone and eye color, it is time to choose the best hair dye color that matches your personal style.
Make sure that your pick of the best hair dye color can make boost your confidence!
9 Best Hair Dye Products
L'Oréal Paris Excellence Creme Hair Color
With its price and performance, this drugstore product is one of the best out there.
This product brings out a vibrant color without making your hair texture feel coarse afterward — thanks to the no Ammonia triple care color technology.
Get shiny, supple, and lively hair color with natural, long-lasting color that can last for weeks, depending on the frequency of washing your hair.
The product also comes with a protective cream, a gentle shampoo, and a lightweight mask to ensure your hair is being taken care of properly afterward.
Pros
Very affordable price
Easy to find (drugstore product)
Vibrant color result
No Ammonia (safer for your hair)
Hair care products included for healthier hair result
Wide range of color choices
Cons
Easy to fade if the hair is being washed frequently
The color might not come out maximally in super dark hair without prior bleach
Clairol Natural Instincts Demi-Permanent Hair Color
The unique selling point of this product is the ingredients — it has 80% naturally derived ingredients, including coconut and aloe vera. This will be perfect if you have sensitive hair and scalp that won't survive ammonia or parabens.
What we like about this product is that it comes with a wide range of color selections: 38 shades of blonde, brown, black, and red. Then, it can also give a shiny "shoe-polish" look to your hair.
However, since this is a demi-permanent product, you can only get blend in up to 35% of gray hairs. So, expect something other than real vibrant, flashy color results.
Pros
Naturally derived ingredients (safer for hair)
Wide range of color selections
Affordable
Shiny result
No harsh smell
Cons
Less vibrant result due to the demi-permanent formula
Schwarzkopf Keratin Color Intense Caring Color
Aiming for an intense color result? This choice of the best hair dye product might be the best pick for you.
Schwarzkopf offers 100% gray coverage with intense color results. What we like about this product is that there is a pre-color serum before pre-application so that the result is more even.
Then, there is the K-Bond Plex formula to protect your hair surface and repairs the inner hair structure during and after use.
However, you will need more than one box of this dye if your hair is longer than shoulder length to get the best result.
Pros
100% gray coverage
K-Bond Plex formula for stronger hair during and after use
Pre-color serum included for a more even result
Relatively affordable
Cons
One box is not enough for hairs with more than shoulder length
Wella Color Charm Permanent Liquid Haircolor
For you who are seeking the best hair dye that won't fade away easily, this is a great permanent hair color solution.
This product has Liquifuse™ technology which allows the color to be long-lasting and fade-resistant.
What we love about this product is that it comes with a bottle-shaped applicator. So, your hair-dying session will be quicker and easier with this product. Moreover, the end result is smooth with minimal coarseness.
On top of that, the shades provided are vast, so you can pick one or even combine colors as you, please.
However, you have to spread the dye carefully during use; make sure to apply it thoroughly to avoid a patchy result.
Pros
Quick, easy bottle application
Liquifuse™ technology offers fade resistant
Vibrant palette with 62 shades
Very affordable
Cons
Must be evenly spread out to avoid a patchy result
Revlon ColorSilk Beautiful Color Permanent Hair Color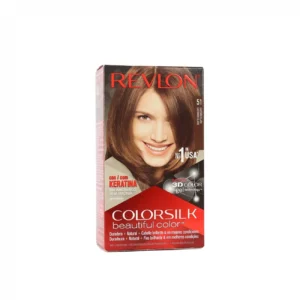 Minimal dripping and non-messy application of Revlon ColorSilk Beautiful Color Permanent Hair Color will surely make it your favorite hair dye product.
With ammonia-free formula, this product is safe to use, especially if you have sensitive skin or are allergic to it.
The end result is pretty promising, too, especially with its 3D Color Gel Technology™ for multi-tonal results.
However, you have to be patient in using the applicator since it is prone to bending during use.
Pros
Ammonia-free formula
3D Color Gel Technology™ for multi-tonal result
No harsh odor
No mess with the precision applicator tip
100% gray hair coverage
Available in 41 shades
Cons
The applicator tip sometimes easily bends
Garnier Olia Oil Permanent Hair Color
Due to its nourishing formula, this oil-based permanent hair color product is suitable for sensitive skin and can deliver silkier & shinier results for your hair.
If you're keen on heavenly scents, this product has a delicate floral fragrance that will elevate your hair-dying experience.
Also, no matter what your hair texture is, you will fit this one of the best hair dye products just fine because it is suitable for all hair textures.
Pros
Ammonia-free and silicone-free formula
The oil-powered formula for silkier & brilliant result
Delicate floral scent
Optimized scalp comfort in a non-drip velvety cream formula
Long-lasting for permanent hair color
Suitable for all hair textures
Cons
The oil-based formula can make it messy during the application
Madison Reed Radiant Hair Color Kit
Madison Reed offers a helpful and satisfying customer experience through their semi-permanent products.
Suppose you're unsure of which shade to pick for this brand's hair dye product. In that case, you can go to their website and choose between these three options: filling out a quick color quiz, taking a free consultation session with professionals, or inputting details of the hair dye product that you usually use — everything is done online!
On top of that, the product comes with safe ingredients with no additional harsh chemicals. Instead, it is full of nourishing ingredients such as keratin, argan oil, and ginseng root extract.
The bottle-shaped applicator is also easy to use with no odor during application. You will also get gloves so that the hair-dying session can go without such a mess.
However, the color may easily fade away when being washed often. Also, you have to be patient with stubborn gray hair since it may require more product to apply to them.
Pros
Semi-permanent hair color with color-reviving gloss
Bottle-shaped applicator
No additional odor
Cruelty-free, ammonia-free, paraben-free, and harsh chemicals free
Nourishing ingredients
Gloves included
Cons
Needs more product for stubborn gray hair
The color may easily fade away
Dark and Lovely Fade Resist Rich Conditioning Hair Color
Dark & Lovely Fade Resist Rich Conditioning Hair Color is one of the ultimate hair dyes for shiny, lustrous hair results.
With its nourishing ingredients and Moisture Seal Technology, your hair will be smooth afterward. Moreover, the Fade Resist formula helps lock the color for up to 8 weeks.
What we love about this product is the jelly-like texture which removes the mess during the hair-dying process.
This product works best for curl types 2A, 2B, 2C, 3A, 3B, and 3C. Also, it is great for extremely damaged, over-processed hair.
Pros
Nourishing ingredients
Non-drip jelly smooth formula
Large shade palette
Up to 100% gray coverage
Cons
Contains bleach (may be harsh for some)
Only 18 color selections (maybe too limited for some)
Lime Crime Unicorn Hair Full Coverage
What pops up the most from this semi-permanent hair color product is the packaging — it is sparkly cute!
This one of the best hair dye products delivers long-lasting hair color kits with 35+ selections of shades based on the latest trends — from pastel to neon colors!
The application is very easy as you don't have to mix everything up in the beginning — use it directly! Moreover, your hair-dying session will be exciting with its sugary citrus vanilla scent.
However, you will only get the maximum vibrant color if your dark hair is bleached beforehand. Therefore, you will have to bleach your hair to achieve the best result.
Pros
Easy application
Cute bottle packaging
Sugary citrus vanilla scent
Gentle, ultra-conditioning formula
Conditioning ingredients
Extra moisturizing due to fatty acids + vitamins
100% vegan & cruelty-free
Ammonia-free, bleach-free, and peroxide-free
Cons
Must do prior bleach up to the platinum level to achieve maximum color
Most Frequently Asked Questions
How to Take Care of Colored Hair?
After choosing the best product, you also have to know the proper way to take care of your gorgeous hair.
Don't worry; we have compiled some of the best ways to maintain your colored hair, including:
– Wait for 72 hours before shampooing
– Use sulfate-free shampoo and conditioner
– Use color-depositing conditioner
– Use cold water when shampooing
– Shampoo less often
– Use color-safe dry shampoos
– Protect hair color during styling using leave-in treatments
– Always use a heat-protectant product before styling with hot tools like hair dryer
– Avoid salt water and chlorine
– Maintain it with trims
Conclusion
All in all, any of these ten best hair dye products for women will give you great results. They are affordable, easy to use, and come in a variety of colors to suit your individual needs.
However, please always do patch tests before fully applying a hair dye product to your hair to avoid irritations or allergies.
So what are you waiting for?
Pick the best hair dye product right now and choose the perfect shade for you! After that, start giving yourself the gorgeous looks you've always wanted!